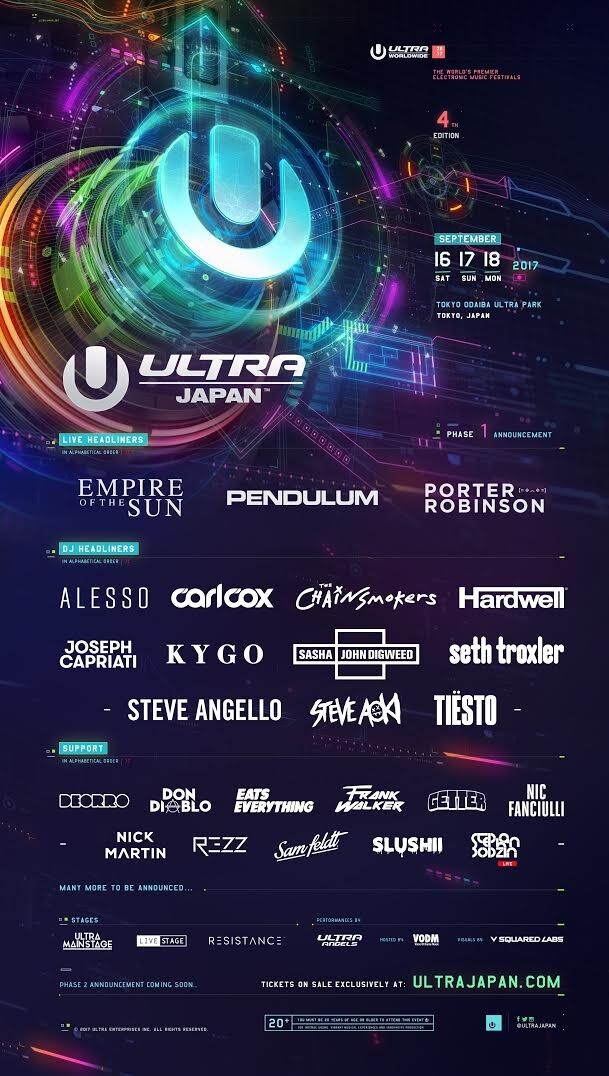 It's that time of year again! ULTRA JAPAN is the most popular electronic dance music festival in Japan, held in the central of Tokyo. They just announced phase one artist lineup including world-class top DJ's from all over the world. ULTRA JAPAN will take place in Odaiba for three consecutive days.
This year they will have the "LIVE STAGE" for the very frist time. The headliner for the "LIVE STAGE" is the electro duo from Sydney,
Empire of the Sun,
and the popular 24 year old DJ/producer
Porter Robinson.
On top of that, the "LIVE STAGE" will also have
Pendulum
, who also has a show scheduled at Shibuya WOMB on 6/3 (Sat) and Studio Parita in Osaka on 6/4 (Sun). He will surprise his Japanese fans with a live band set at ULTRA JAPAN!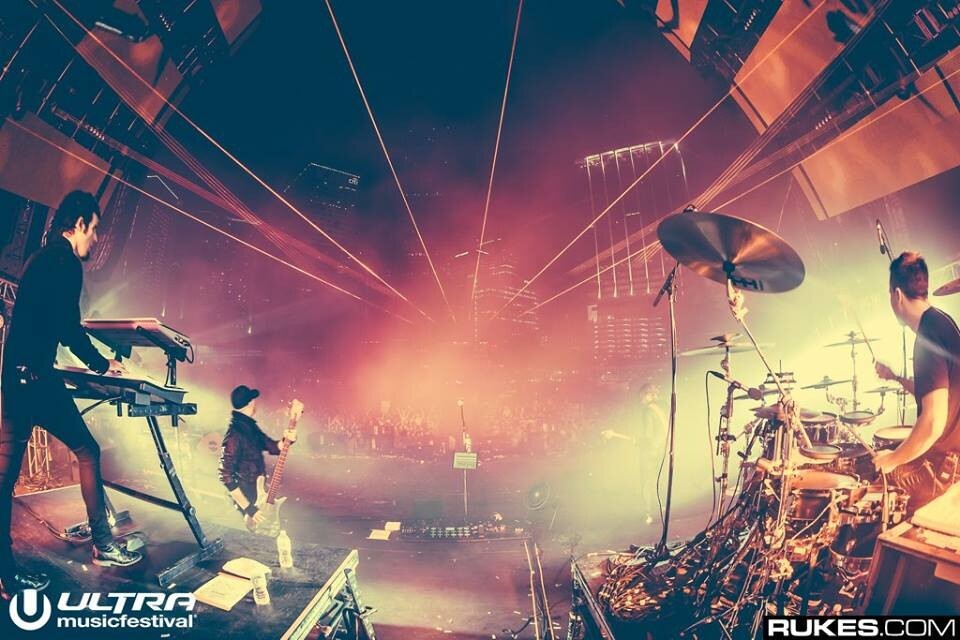 This years artist lineup also includes world famoud DJ's
Hardwell
,
Kygo
,
Alesso
,
Steve Aoki
and
Tiësto
as well as grammy award winner
The Chainsmokers
and legendary DJs,
Carl Cox,
Sasha & John Digweed
,
Joseph Capriati
and
Seth Troxler.
Don't miss this rare chance to see all these famous DJs at one place!
iFLYER is especially excited about
REZZ,
a female DJ who has been highly recommended by deadmau5. She is famously known for her unique taste in music and the special glasses she wears during her performance. She is quite new in the scene but has already played a handful of big festivals.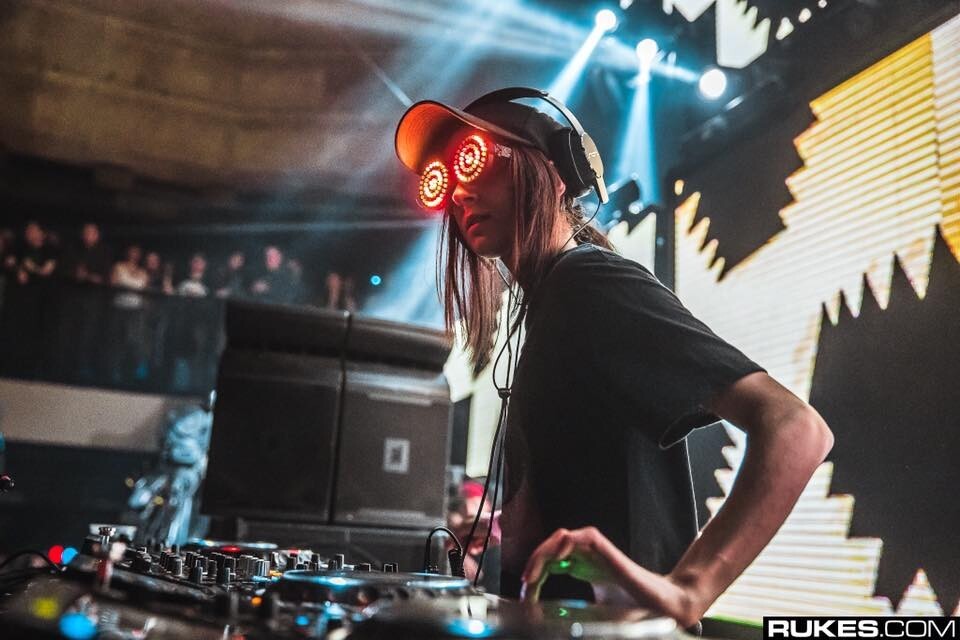 With all these big name artists being announced for ULTRA JAPAN, we have very high hopes for the phase two lineup as well!!!
iFLYER ticket sales limited to overseas customers!!!
Ticket sales for overseas customers start from May 25th (Thu) 10PM~
TICKET
ULTRA JAPAN 2017
GA 3 DAY COMBO
¥39,000
TICKET
ULTRA JAPAN 2017
VIP 1DAY (SAT 16TH)
¥30,000
TICKET
ULTRA JAPAN 2017
GA 1DAY (SAT 16TH)
¥13,000
TICKET
ULTRA JAPAN 2017 DAY2
VIP 1DAY (SUN 17TH)
¥30,000
TICKET
ULTRA JAPAN 2017 DAY2
GA 1DAY (SUN 17TH)
¥13,000
TICKET
ULTRA JAPAN 2017 DAY3
VIP 1DAY (MON 18TH)
¥30,000
TICKET
ULTRA JAPAN 2017 DAY3
GA 1DAY (MON 18TH)
¥13,000
■URL for ticket sales
Lawson Tickets
GA 3DAY TICKET・GA 1DAY TICKET
URL:
https://l-tike.com/st1/ultrajapan-ticket02
VIP 1DAY TICKET
URL:
https://l-tike.com/st1/ultrajapan-vipticket
Yahoo!Ticket
GA 3DAY TICKET・GA 1DAY TICKET・VIP 1DAY TICKET
URL:
http://r.y-tickets.jp/ultra2017
※ULTRA JAPAN 2017 YOU MUST BE 20+ TO ENTER
【ULTRA JAPAN 2017 EVENT INFORMATION】
【Event】ULTRA JAPAN 2017
【Venue】TOKYO ODAIBA ULTRA PARK
【Date】SEPTEMBER 16th (Sat)、17th(Sun)、18th(Mon・Holiday)
【Time】Start11:00/End21:00
【Organizer】ULTRA JAPAN 2017
【Ticket】GA 3DAY TICKET:¥39,000(including tax)
GA 1DAY TICKET :¥13,000(including tax)
VIP 1DAY TICEKT :¥30,000(including tax)
Ticket sales:MAY 25th(Thu)10PM~MAY 31st(Wed)11:59PM
※YOU MUST BE 20+ TO ENTER
【Link】Official website :
http://ultrajapan.jp